Give Today!
Help Provide A Meal
Our most pressing need is to meet our monthly operating budget which pays our Haitian school staff, provides educational resources, activities and a daily meal.  
A monthly gift of $35 for a year or an annual gift of $420 will sponsor a child.  In addition, $115/day provides a meal for over 200 students plus staff.  A gift of any amount is always welcomed.
To Make Your Gift:
Online: use the Give Today Button
Bank Bill Pay/Mail: PO Box 846 Rutherford College NC 28671.
In the memo, please indicate grade level/gender of student(s) you would like to sponsor.  We will send you a  prayer card with a picture.  We have K 1-3 classes and 1st-7th grades.
Please create an account so you can access your Giving Records and update your information.
Read on to learn more about Real Love Academy. Thank you for partnering with us to #EngageEquipEmpower Haiti with the gift of education!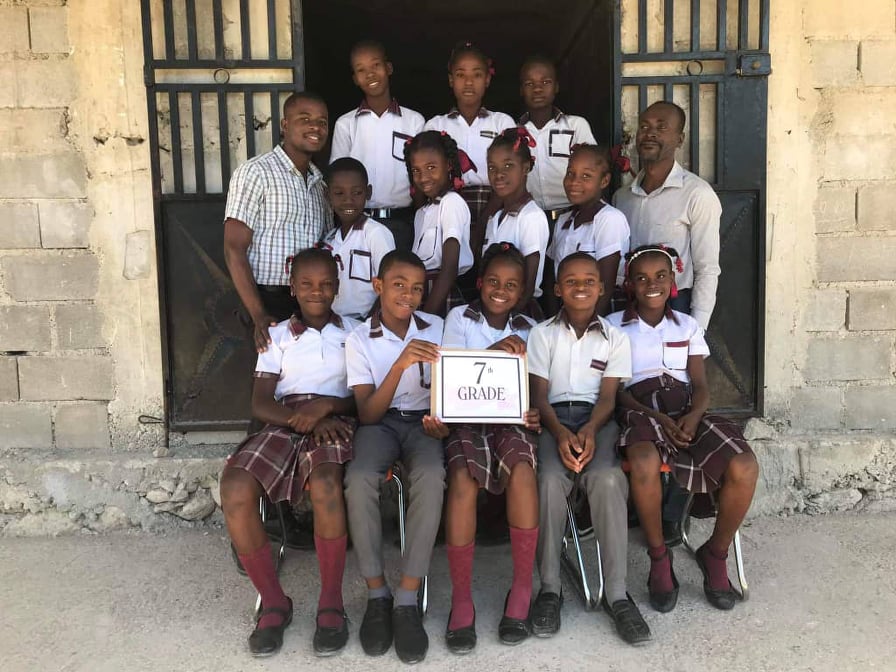 Our Ministry: Real Love Academy
Education is key for a sustainable future for our children and for Haiti. There is no free, public education system in Haiti. Schools operate on tuition and outside support. With average income hovering around $3/day, many Haitians cannot afford the tuition costs. Therefore, many do not attend consistently or at all.
Real Love Academy (RLA) provides an affordable, quality education to our children at the orphanage and for the families of Lafiteau and surrounding area. The focus of our curriculum is knowledge, character-development and leadership in a Christian environment to unleash the potential of each child.
RLA is in its 6th year for the 2022-23 school year. We now offer 3 levels of Pre-K/Kindergarten and 1st- 8th grades.   In January 2022, we began construction of the 2nd floor so additional grades can be added through high school graduation including trade school programs.  This is a much-needed resource to prepare our children and those living in the village, for adulthood and to be leaders. It is vital to our efforts to empower the Haitian people.
We invite you to follow Real Love Academy on Facebook.